Acrylic Mirror Sheet
Acrylic Mirror Sheet by Industrial Plastic Solutions.
IPS is one of Melbourne's trusted suppliers of high quality Acrylic Mirror Sheet.
We stock Silver Acrylic Mirror sheets in thicknesses of 2mm, 3mm, & 6mm.
Coloured Acrylic Mirror is available for all types of applications. From Architectural Projects, Decorative panels or signage call us for free quote today.
Standard sheet sizes are 2440mm x 1220mm. Also available upon request are over-sized Acrylic Mirrored sheets at 3050mm x 2030mm.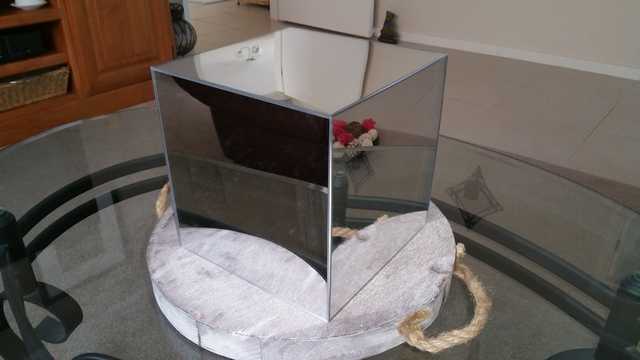 The following colors are available in various thicknesses:
• Silver in 2mm & 3mm
• Gold in 3mm
• Red in 3mm
• Yellow 3mm
• Blue 3mm
• Bronze 3mm
• Amber 3mm
• Orange 3mm
• Purple 3mm
• Silver 6mm
Available upon request are half sheets, quarter sheets as well as a cut to size service.
In most cases we can cut the Acrylic Mirror panels you require while you wait.
A great characteristic of Acrylic Mirror sheet is that it is lightweight and is 10-15 times stronger than glass of equal thickness.
Our mirror is high quality as well as being easy to machine and fabricate. We can Cnc router acrylic mirror to any shape size or font for specialised signage displays.
Advantages of using Acrylic mirror are that you are able to drill, machine, cut it as well as bend and fabricate for display solutions.
Uses include plastic signs, point of sale displays as well as bathroom and caravan mirrors.
Cleaning can be performed by using a mild dish wash detergent combined with water and a soft cloth, or by using one of our specialized cleaners.
Things to know about Acrylic Mirror Sheet is that when installing larger sheet panels, if not installed correctly you may obtain a wavy reflection. In order to help
minimize this you need to first install on a flat MDF board using a quality Mirror adhesive that we have available in-store.
Our experience staff are happy to answer any  questions you may have in aiding in the installation process.
Call us for a free quote on (03) 9798 1153.
If you have Coloured Acrylic Mirror and Acrylic fabrication requirements – WE CAN HELP