Acrylic Displays Melbourne
Acrylic Displays Melbourne by Industrial Plastic Solutions.
We are Melbourne's most versatile and experienced suppliers of Acrylic Displays, as well as manufacturers of Acrylic Displays in Melbourne. We are the Custom Plastic Fabrication experts you need to call when you require custom Acrylic Displays.
At Industrial Plastic Solutions we perform Acrylic Cnc Routing and custom Plastic Fabricate all sizes and types of Acrylic or Perspex Displays.
We Plastic Fabricate large Perspex and Acrylic Display Cases for Architectural Displays, as well as a large variety of retail displays for all industries and shops.
With clear Acrylic Food Bins for Nuts & Perspex Candy Bins for Confectionery  we can custom fabricate all types of storage containers to suit your store. We pride ourselves on making custom scientific equipment from acrylic and are only too willing to help with the design process.
IPS use Quality Cast Acrylic & Perspex to custom Plastic Fabricate all Point of Sale  Displays.
Industrial Plastic Solutions can even Plastic Fabricate Perspex Turntable Covers to suit your old Hi Fi, by using quality Perspex or Cast Acrylic. Let us refurbish that old sound system to look like new.
The finished product is durable, food safe and easy to clean and maintain.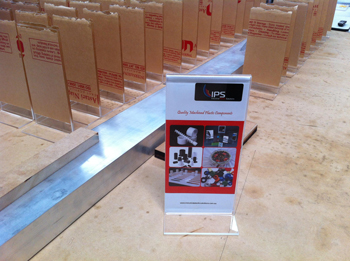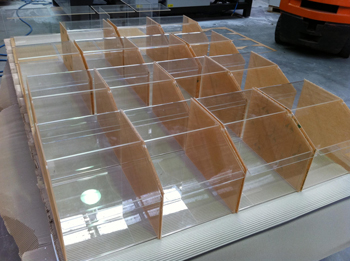 Acrylic Displays Made to Perfection.
Pretty much any Acrylic Displays you may think of we can Plastic Fabricate.
From large heavy duty Acrylic Display Cases out of 10mm clear acrylic as the one pictured below on the bottom left, or even custom Brochure Holders to suit unusually sized items.
With IPS you can be assured of top quality workmanship and a reliable delivery date.
Other Plastic Fabrication services we provide our customers are the ability to bend and polish all Acrylic Displays.
Industrial Plastic Solutions Cnc Route, custom Acrylic Sight Glasses up to 50mm thick non laminated.
We will help you design custom Acrylic Displays Melbourne components to suit whatever application you may require. We Plastic Fabricate Displays for your collectable cards as well as your posters including lockable display cases for valuables and displayable items.
Call us on (03) 9798 1153 for a free quote and bring your concept to life..