Nylon uses & properties
July 5th, 2015
Nylon commonly known as the work horse of plastics was first patented in 1935 by a scientist working for DuPont. Since this time nylon has become renowned for its toughness & wear characteristics which enable it to be used in many industrial applications that require a tough material.
There are many variants of nylon nowadays each suited to a particular set of circumstances.
Some of the more common Nylons are: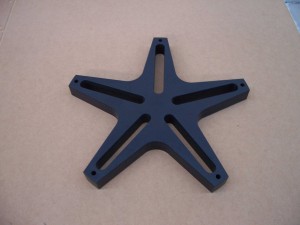 • Nylon 6 SA
• Nylon 66 SA
• Nylon Oil filled LFX or Oilon
• Nylon 6PLA
• Nylon 6XAU
Nylon is not damaged by oils in fact you can purchase oil filled nylon for self-lubricating applications.
It is often used within the electrical industry due to its heat resistance & non-conductive properties as it has a melting temperature of 216 degrees Celsius.
Another Nylon attribute is that it has excellent impact strength as well as being able to withstand high loads, although it does have water absorption which can cause it to swell.
Nylon is used to make plastic bushes as well as bearings & as such may have additives introduced to increase wear properties such as Molybdenum, and in other cases glass fibres to increase strength properties.
Commonly used for applications such as:
• Rollers
• Gears
• Guides
• Insulators
• Wear pads
• bearings
Nylon is an excellent material when machined and is often used to make quality change parts for industry saving a lot of money to business owners due to the fact it is cheaper than steel and lasts longer. In many applications the material is much lighter than metal.
Available in rod & sheet form in various thicknesses & diameters it is commonly supplied in natural as well as black, however it does come in green and yellow oil filled.
Next time you require a bush or bearing consider using nylon for its advanced wear properties, as well as no need for lubrication.
So when inquiring about a piece of plastic call one of our dedicated staff to help source the correct material type for your job.
Get in touch with Industrial Plastic Solutions
Mobile: 0400967210
Phone: (03) 9798 1153
Fax No: (03) 9798 1915
Email: ipssolutions@bigpond.com
Address: Factory-20, 29-39 Kirkham Road West, Keysborough VIC-3173
Business Hours:
Monday – Thursday 8.30am to 4.30pm
Friday 8.30am to 3.30pm
Saturdays by appointment only.
Optimized by NetwizardSEO.com.au